Social media is the place to promote yourself. Be it Twitter, Facebook, or another platform. They are the backbone of our economy and the cornerstones of our communities.
With the saturation of the market on social media, it does get harder and harder to stand out. That's why it is important to have a custom logo and header, or cover, to help you stand out among the crowd.
Bumble Bear Creations can help you with that. We can illustrate, or digitally paint, you a custom logo, or profile picture, and a header image. Check our portfolio for an impression.
See our price list below to see what we offer in our social media packs. If you only need a customized logo, check out our Logos page.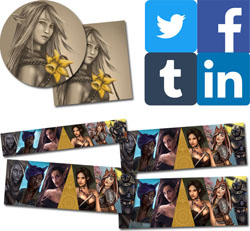 ---
Single Pack
$100
For 1 Social Media Platform:
Profile Picture/Logo
Header Image/Cover
---
All-In-One
$249
For Twitter, Facebook, Tumblr, AND LinkedIn:
Profile Pictures/Logos
Header Images/Covers
---